This week, we're focusing on maximizing consumer appeal on Amazon. Sweet, ubiquitous Amazon. A powerhouse in the online retail space, a hub for just about everything under the sun, Amazon is a behemoth in the retail space…with a seemingly endless parade of products. So many products, in fact, that "being there" just isn't enough.
When a product is competing with millions of other similar items, it's important to leverage every possible advantage.
How do we begin to make our partners' products stand out? For this topic, we turn to our internal experts, Andrea Franco, Senior Account Manager, and Vera Martynets, Marketing Manager. Both are dedicated to our Amazon business and have put in countless hours setting up titles, managing inventory, and merchandising to appeal to consumers.
DS: Thanks for participating in this roundtable discussion! We'd like to focus today on one particular aspect of merchandising on Amazon: the A+ Page. For starters, what is an A+ page ?
AF: A+ pages are Amazon product pages that go beyond the basic product details and offer online customers more information about a release. They can include additional images and product features that otherwise would not be seen.
VM: Right, they allow you to add more descriptors to a product.
DS: More descriptors are important because…?
VM: With each additional image you get to program more keywords, which helps with the searchability of the product. More pictures = better appearance in search results.
DS: Okay, from a 'consumer appeal' and 'searchability' perspective, totally makes sense. Any other benefits?
VM: Adding a good-looking A+ page can result in higher conversion rates, increased traffic, and increased sales.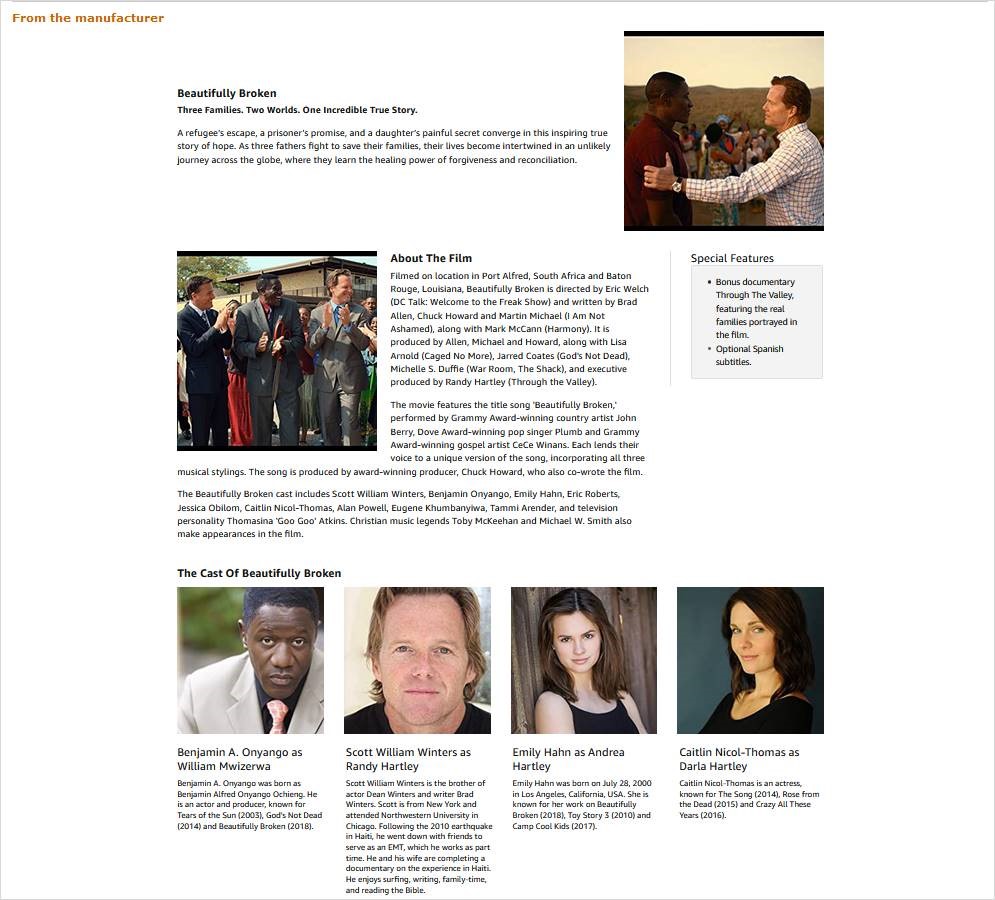 AF: And it's really a better way to engage the Amazon customer. An opportunity to tell them everything you want them to know about your release, like special features, Dove Approval rating, extensive cast. It's a way to boost your release in search rankings without paying for sponsored ads. It's also an opportunity to optimize for mobile customers.
DS: So this enhanced page can work on whole lotta levels, got it. What is the cost to our label partners?
VM: Zero, nada, zilch!
AF: That's right: NOTHING! This benefit adds value without costing a thin dime.
DS: Well, that's great…so what do you need from label partners in order to create these awesome pages?
VM: Attractive synopsis, great stills. Photos showcasing talent, production value, storyline intrigue – anything that makes the movie look fantastic! And press reviews, critics' shout-outs, awards…
AF: We call this EMC (Enhanced Marketing Content). The more photos the better, so I'll add "beauty shots" of gift sets and talent headshots to Vera's list. Oh – and expanded synopsis, special feature details. Detailing content by disc on multi-feature or box set products.
DS: Laughing a bit that we don't escape this discussion without at least one new acronym…but what's the dream scenario for EMC?
AF: The dream? At least one banner, lots of stills, full synopsis, and feature call-outs. That being said, a little bit can go a long way in making a polished, searchable product page that stands out from the crowd.
DS: So, if I were to summarize our chat, I'd say key takeaways about the value of an A+ page are:
Increases searchability (stand out from the competition)
Adds consumer appeal (better sales tool)
100% customizable, based on available assets, no reason not to!
Thanks, Andrea and Vera. This has been a great discussion about the Amazon A+ page service we provide to our .com label partners Thank you both so much!
Readers, if you would like to learn more about our A+ page support and features, please reach out to us at studios@ds.aent.com for more information!